4K LED UHD TV
LG 43UJ6300
Key Features:

4K Ultra HD Resolution
webOS 3.5 Smart TV
Active HDR
True Color Accuracy


Regular: $899.99
Qty. Available: 2
Desktop Stereo System
Yamaha MCRB043 Desktop Stereo (demo)
Wireless playback from your smartphone, tablet or PC effortlessly with Bluetooth technology

CD player, USB and FM/AM* radio

Sleep timer and Alarm functions

USB port allows you to charge your smartphone or tablet

Regular: $449.00
Qty. Available: 1
Bluetooth Headphones
Parrot Zik 3.0 Bluetooth Headphones
The wireless, hi-tech, stylish, ultra-intuitive audio headset

Resulting from collaboration with designer Philippe Starck, the Parrot Zik 3 headset is the latest addition to the range. It offers the best in sound and innovation, like its wireless charger, adaptive noise control, and proximity detector. Compatible with modern equipment such as smartwatches and induction charging stations (Qi)
Regular: $549.00
Qty. Available: 3
DESKTOP ACTIVE POWERED SUB WOOFER
PSB SUB100 (DEMO)
Don't be fooled by its cute looks and tiny proportions—the SubSeries 100 Compact Powered Subwoofer may be small, but it's got plenty of might. ... The SubSeries 100 is a fully featured product, giving nothing away to its acclaimed big brothers in the PSB subwoofer family.
Regular: $329.00
Qty. Available: 1
4K eSHIFT D-ILA FRONT PROJECTOR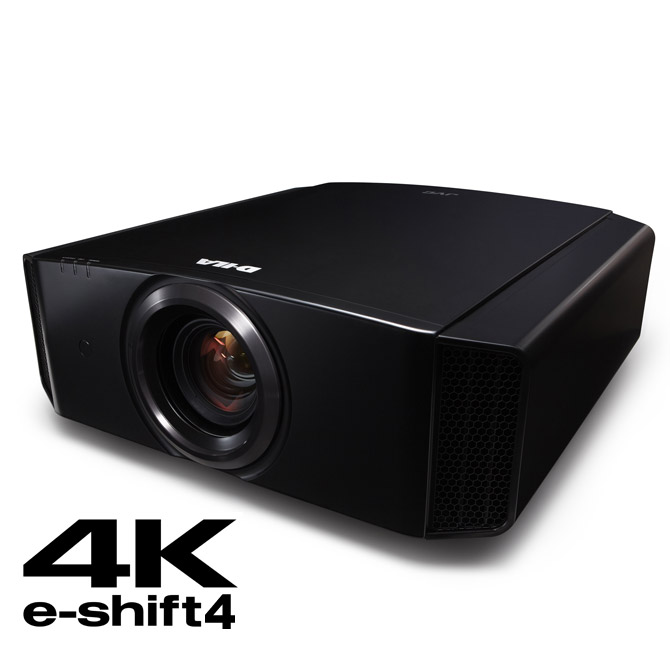 JVC DLAX570R (MINT DEMO)
MINT DEMO - ONLY A FEW HOURS ON BULB

The Best-In-Class Home Theater Projection Experience with 1800 Lumens brightness and 4K e-shift4

The DLA-X570R delivers stunning picture detail and an unprecedented value thanks to JVC's exclusive 4K e-shift4 technology. It accepts native 4K 60P (4:4:4) content through Full Speed 18Gbps HDMI/HDCP 2.2 compatible inputs and up-converts existing 1080P sources to 4K precision. Three discrete D-ILA devices produce a stable image with no flicker and class leading 40,000:1 Native Contrast Ratio for peak whites and deep blacks.

For 2017, JVC projectors add an Auto HDR picture preset for best compatibility with UHD 4K HDR content and a low latency mode for improved gaming. JVC has also updated the HDMI connectivity and added Hybrid Log Gamma for future HDR broadcast and streaming content.


40,000:1 Native Contrast Ratio

Intelligent Lens Aperture for Dynamic Contrast Ratio of 400,000:1

New for 2017 1800 Lumens with High Power Lamp (PK-L2615U 265W High/200W Normal

4K e-shift4

Improved for 2017 Dual Full Speed 18Gbps HDMI/HDCP 2.2 Compatible Inputs

Compatible with full spec native 4K signals such as 4K60p 4:4:4, 4K60p 4:2:2/36bit and 4K24p 4:4:4/36bit

Compatible with 4K streaming devices and UHD BD content

Compatible with DCI Color Space

New for 2017 Low Latency Mode for
Improved Gaming

New for 2017 Auto HDR (High Dynamic Range) Picture Preset

Motion Enhance (2D, 3D, 4K) with Clear Motion Drive

Improved for 2017 Multi Pixel Control (MPC) with Auto Mode for ease of use

MPC works with 4K60P (up to 4:4:4) signals

3D Enabled (Active Shutter Method)

Accepts Frame Sequential, Side-by-Side, and Top-Bottom

3D Anamorphic Capable

3D Crosstalk Cancellation

3D Parallax Adjustment

Optional RF Active Shutter 3D Glasses (PK-AG3G) and RF 3D Emitter (PK-EM2G)

Lens Memory with 5 user adjustable presets

Motorized 2X Zoom Lens (1.4:1 – 2.8:1)

Simplified 6-Axis Color Management System

Manual Gamma Control included with JVC Calibration Software

Control4 SDDP (Simple Device Discovery Protocol)

6th Generation 1920x1080 DILA devices

Ultra Quiet Operation (21db/Low Lamp)

Clear Black Processing improves local area contrast

Screen Adjustment Modes

Convergence Correction — 1/16th pixel increments with 2 memory positions

Inputs & Outputs

Dual Full Speed 18Gbps HDMI/HDCP 2.2 Compatible Inputs

RS-232C

RJ45 LAN Connection

12V Trigger

3D Synchro

2 Year Warranty
Regular: $4999.00
Qty. Available: 1
4K LED NANO-CELL UHD TV
LG 75SJ8570 SUPER UHD TV
Key Features

Billion Rich Colors
Active HDR with Dolby Vision™
webOS 3.5 Smart TV
Harman Kardon built-in sound


Regular: $5499.00
Qty. Available: 2
Totem Acoustic
Totem Acoustic Mite CHY (demo)
Hand-built in Canada the Totem Mite is impeccably finished in real cherry veneer. The voicing on the Mite is incredible for its diminutive size. Last pair!
Regular: $949.00
Qty. Available: 1
Full Range Tower High-Performance Speakers
Bryston Model T c/w Outriggers - Cherry (Demo)
The Bryston Model T Passive Loudspeaker was built to be exceptionally high quality and affordable, while bringing superior design to the table. New driver designs, enclosure vibration analysis, crossover refinement, and anechoic chamber testing all went into creating an amazing product.

A "state of the art" audio system involves what some refer to as a "suspension of disbelief". This means the playback system transcends the recorded medium and transports you to a live venue. You forget it's a recording and believe you are there at the live performance. Bryston's goal with the Bryston Model T loudspeaker is to provide our customers with a superior level of "disbelief".

Features:

High levels of SPL without distortion or compression

Unit to Unit matching Bryston internal crossovers, designed to integrate perfectly with Bryston Amplifiers

Custom designed drivers with die-cast aluminum baskets, substantial magnet assemblies, and custom motor systems

Wide dispersion design

Engineered to prevent cabinet resonances

Optional Feet INCLUDED:

Extra Large Out-Riggers - Equipped with larger spikes with adjustable height (via Allen key).

Specifications:

Frequency Response: 25Hz to 20Khz (+/- 3dB)

Impedance: 4 Ohms (nominal)

Sensitivity: 89 dB SPL @ 1 meter with 1 watt (anechoic)

Maximum SPL: 118 dB SPL @ 1 meter

Recommended Power: 10 watts to 500 watts RMS

Tweeter: Dual 1.0"

Midrange: Dual 5.25"

Woofer: Triple 8.0"

Physical:

52.5" H x 10.5" W x 16.5" D
1334mm H x 267mm W x 419mm D


Regular: $9195.00
Qty. Available: 1
Speakers
Totem Ember (demo)
The new Element Ember from Totem is unique in its architectural design and geometric conception. Its stunning multi-angled chassis displays no apparent parallel lines, seemingly defying the laws of perspective.

The Element Ember comes purposefully appointed with the new Torrent™ 6-inch driver. With its custom designed and machined aluminum terminal back plates, precision machined reflex ports and fabulous platinum W.B.T. connectors (bi-wireable), the Ember is burning hot. These gleaming, luxurious, 4-coat polyester gloss black finish.

There is minor cosmetic damage on one edge that is covers by the grill. The discount
Regular: $4299.00
Qty. Available: 1
7.2 Channel Full 4K Ultra HD A/V Receiver
Marantz SR5011 - Factory Sealed New
Packed with the latest audio and video technologies, the Marantz SR5011 lifts your Home Theater to a new level. Featuring Dolby Atmos and DTS:X (via firmware update), you can enjoy breathtaking 3D surround sound with today's advanced movie soundtracks. The SR5011 is made out of carefully selected, high grade audio components and Marantz-own HDAMs (Hyper Dynamic Amplifier Module), delivering the renowned Marantz Hi-Fi and Home Theater sound. The amplifier section is rated at 100 watts per channel (8 ohms, 20 Hz~20 kHz, 0.08% THD), enough to fill even bigger rooms, and thanks to advanced Audyssey MultEQ XT, tailored perfectly to your individual listening room.

Prepared for the future, the SR5011 features an advanced video section that's fully compatible with the latest HDMI 2.0a and HDCP 2.2 specifications on all 8 HDMI inputs. With 4K Ultra HD 60Hz video, 4:4:4 Pure Color sub-sampling, High Dynamic Range (HDR) and 21:9 video, 3D, and BT.2020 pass-through support on every input, the SR5011 is ready for the next generation of Blu-ray disc players, set-top boxes and other 4K Ultra HD sources. At the same time, a 7.2 channel pre-out section and the RS232 connection and IP control makes the SR5011 very appealing for custom installation purposes.

Full wireless connectivity is provided by both Wi-Fi and Bluetooth, with dual antennas that help ensure robust signal transmission and reception. Stream your favourite music through AirPlay, Spotify Connect or local network storage drives. High resolution audio formats and playback are fully supported for incredible fidelity. The dedicated Marantz 2016 AVR Remote app is available from the Apple app store, GooglePlay, and the Amazon appstore to control the receiver from your phones or tablets.
Regular: $1199.00
Qty. Available: 1
2-way Active Powered Mixing/Listening Monitors
Focal CMS 50 Demo (Pair)
Two-way monitor

The CMS 50 is the most compact monitoring loudspeaker of all the Focal Professional range. Its design permits listening from 20" away, while still keeping the possibility of the monitors at a great distance from one another without damaging the soundstage. The 5" mid-woofer reaches down to 55Hz, while offering a controlled bass and a totally linear midrange. The midrange register of the CMS 50 has unequalled neutrality in its price range. The Aluminum-Magnesium inverted dome tweeter offers outstanding dynamics and a degree of definition in the treble that allow precise measurement of reverb and other effects which are normally very difficult to assess.

Mipa award: 100 magazines awarded the CMS 50 best studio monitor. Read the news Readers choice awards: ProSoundWeb and Live Sound International

Regular: $1699.00
Qty. Available: 1
High End Network Music Streamer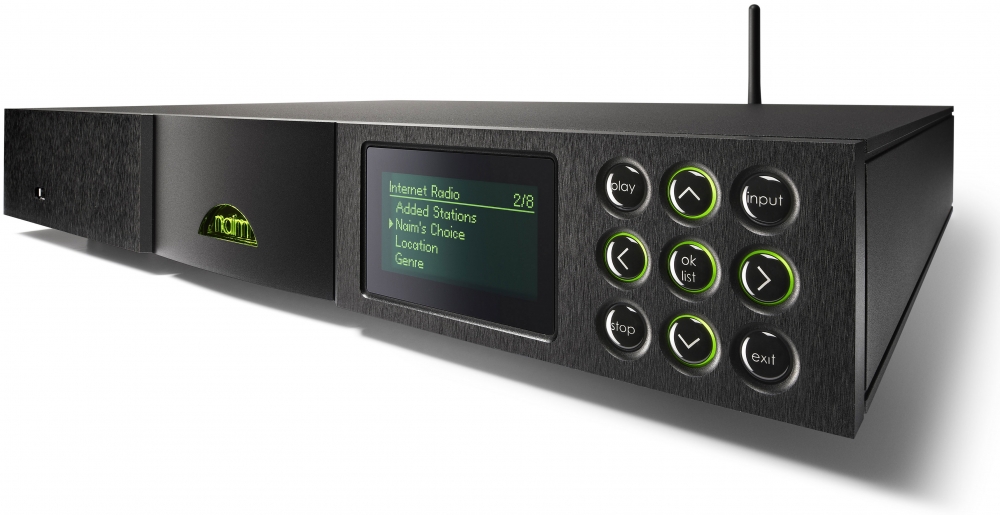 Naim Audio ND5XS (demo)
Floor Demo Model.

This unit is identical to the newest model only missing the added Bluetooth capability.

ND5 XS is one of the most technically advanced and accomplished of all Naim Audio products. The use of numerous innovative techniques for electronic signal processing and isolation ensure that each digital audio data stream is delivered to the ND5 XS outputs with maximum fidelity.

Stream high res music with UPnP, Internet Radio, TIDAL, Spotify, plus it has a USB input, and optical and coax digital inputs for legacy devices. Multi-room capable with other Naim streaming products. Control and navigate with the Naim app or supplied remote. Upgrade power supply options available.
Regular: $4799.00
Qty. Available: 1
PORTABLE RECHARGEABLE BLUETOOTH SPEAKER
BANG & OLUFSEN A2 SPEAKER
A2 Active

Powerful portable Bluetooth speaker with up to 24hrs of battery life.

Amvsemen
"The design of this speaker is solid and its quality of materials is one of the reasons I look to BeoPlay"

Up to 24hrs battery life
Wirelessly connect to all Bluetooth devices
Splash and dust resistant
High quality sound
Premium durable materials


Regular: $499.00
Qty. Available: 3
High Performance Sound Bar & Subwooder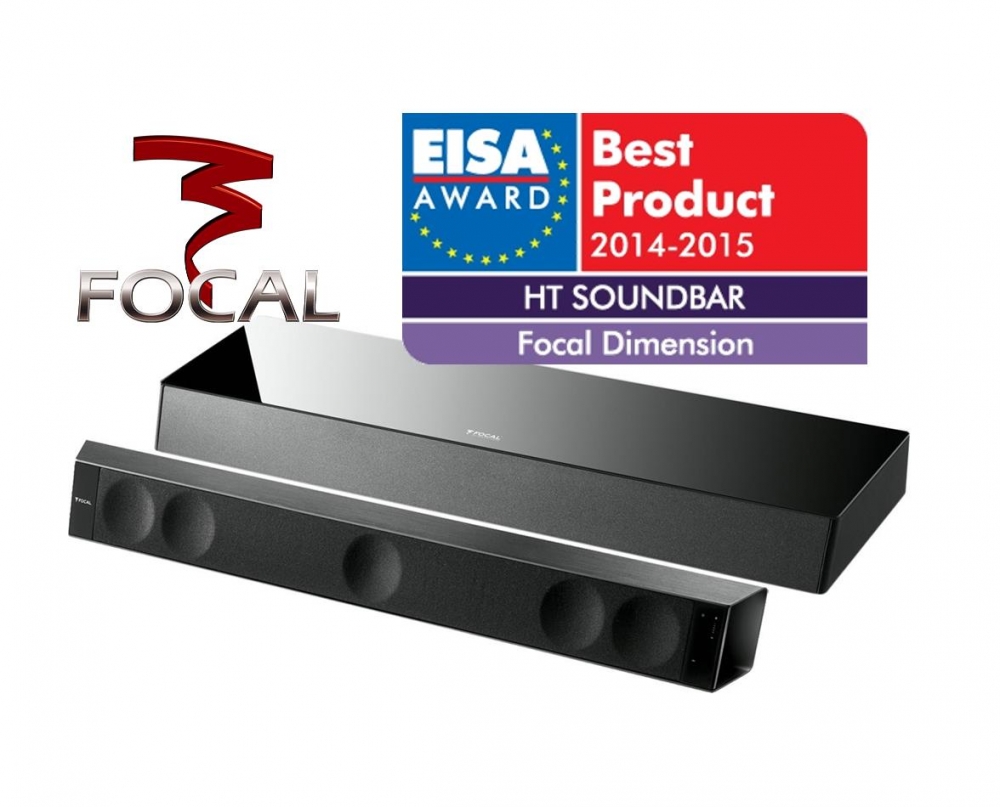 Focal Dimension & Dimension Sub (pre-owned)
imension is a soundbar with exceptional acoustic qualities perfectly adapted to flat screens. R&D teams offer you a soundbar capable of restoring a quality sound with clear and natural-sounding dialogues thanks to five ultra-flat patented speaker drivers. Dimension is the response to the desire of flat screen's owners for powerful sound in a discreet and perfectly integrated audio system. Finally offer to your images the sound and emotions they deserve!

When a traditional soundbar depends on the room spatialisation, Dimension offers an immersive 5.1 sound with realistic and precise sound effects not only in the high frequencies.

With a soundstage of 4m and a maximum power of 450W, Dimension performances are equivalent to a very good high-fidelity audio system and are perfect for rooms even measuring over 50m2.


Regular: $1899.00
Qty. Available: 1
Audiophile Soundbar

Martin Logan Motion Vision (Demo)
Martin Logan engineered the Motion Vision with a commanding bass performance paired
with precisely etched mid- and high-frequencies, creating a vivid, three-dimensional
soundstage. Front left/right and center channels use three advanced-resolution Folded
Motion™ tweeters, four high-performance woofers and seven dedicated amplifiers
to deliver 100 watts of total system power that also simulates the rear left/right
effects channels to create fully immersive, five-channel surround sound throughout the
listening environment.
Dual rear-firing bass ports reinforce the bass extension for astonishingly deep bass, and for bass aficionados
who desire the deepest bass experience, the built-in SWT-2 transmitter allows the addition of a compatible
wireless MartinLogan subwoofer.
Hassle-Free Setup & Simple Controls
Motion Vision installs quickly and easily on a wall with the included mounting bracket, or it can be placed on
a shelf for an elegantly simple installation. A top-mounted control pad allows full access to the menu system
and volume should you misplace the included remote
Regular: $1649.00
Qty. Available: 1
Rear/Side Surround Speakers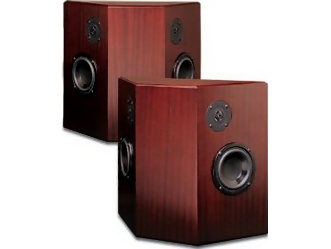 Totem Acoustic Lynks Mahogany (Demo) Pair
The Totem Lynks renders excellent sound imaging, precise focus and absolute spatial fidelity. Employing some of the finest and most advanced transducers available with the added benefit of a Totem engineered and built multi-layer cabinet, the Lynks expresses and projects shear beauty. With its unique attachment-system design, the Lynks is an extremely well built and immensely musical bi-di on-wall speaker system. Excellent imagining, focus and localization, along with spacious ambiance, make the Lynks a very versatile complement to all Totem speakers.
Real veneer Mahogany finish.

Regular: $1149.00
Qty. Available: 1
2-Way Bookshelf Speakers - Black - Pr
Paradigm Mini Monitor V7 BLK (Demo)
Good architecture will stand up well over time, as will good sonic architecture. The Monitor Series 7 is a classic example. Now in its seventh iteration, each new generation is an opportunity for refinement: design innovations from our higher-priced reference lineups, reference-quality component parts, cabinets and even finishes! When it comes to getting value for your money, it doesn't get better than Monitor Series 7. Since its inception, the Monitor Series has been a favorite of audiophiles on a budget — with Series 7, that hasn't changed.
Regular: $699.00
Qty. Available: 1
50 Watts X 2 Stereo Integrated Amplifier
NAD C326BEE
Tracing its lineage back to the original NAD 3020, an amplifier that changed the industry, the C 326BEE is a truly extraordinary component. With more than twice the power output, as well as a pure Class A pre-amp circuit, the C 326BEE delivers an outstanding performance. Featuring 7 line inputs, and a pre-amplifier section that can be separated from the power amplifier for easy upgrades, the C 326BEE is a product that cannot be ignored. The C 326BEE also benefits mightily from NAD's proprietary PowerDrive™ circuit topology, which allows the C 326BEE to deliver maximum performance to even the most powerful of speakers. With significantly low levels of both noise and distortion, the C 326BEE is a dream product for any Hi-Fi system, and will deliver a captivating and vivid listening experience unlike anything you've heard before.
Regular: $699.99
Qty. Available: 2