What We Do
Wireless Audio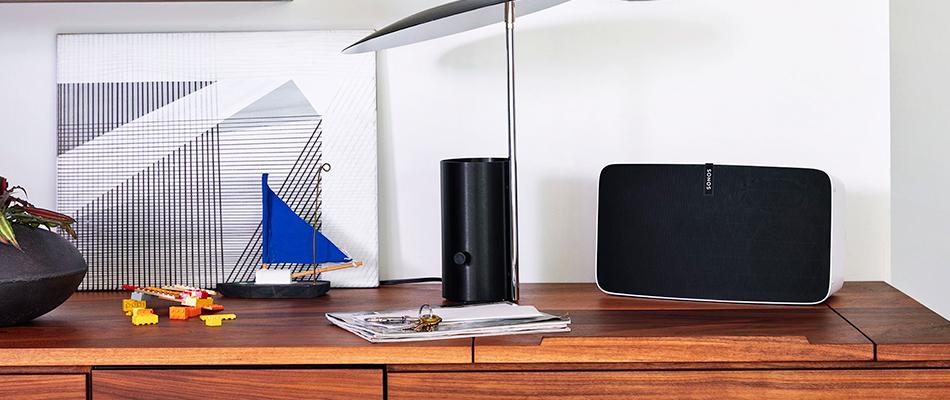 No segment of the audio business has evolved as much as the wireless audio category and music content delivery. Music used to be delivered through purely physical forms like LPs, Tapes, and CDs. Next came digital downloading, which then evolved to our current form of "on-demand" music streaming; 40 million songs at full CD quality resolution for a low monthly fee.

Music used to be restricted to just one room or audio system. Today's modern wireless audio components allow us to easily populate our rooms with music systems and be able to have the same or completely different music in every room, or any combination you desire, at any volume you desire.

We used to have to commit to very expensive solutions to have music in every room. Now we can avoid the expensive prewiring and build a whole home solution over time as our budget allows and expand the system as our needs develop.

We used to control these systems with original product remotes. Now we can control our systems with computers, smartphones, and tablets. These control devices offer easy and quick navigation of immense collections of music.

The quality of streaming music has grown from lowly MP3 to "lossless" CD quality, and now MQA - high resolution on-demand music streaming at 4 times the resolution of CDs! Digital downloads are now available in resolutions matching the original recorded studio resolutions at over 8 times that of a CD.

While older components had to be continually replaced as the audio world technically advanced, these modern components are updatable, allowing the product to evolve in functionality and improved audio performance.
Atlas Audio video has assembled an amazing array of audio streaming components. From entry level Bluetooth portable speakers from Bose, to the phenomenal Devialet Phantom, we can deliver the best of the best in powered wireless speakers.

We can modernize existing stereo systems with products like the SONOS Connect or Bluesound Node, adding all the modern conveniences of wireless audio to components that would otherwise have to be disposed of to embrace new music content delivery methods.

With streaming amplifiers from a variety of manufacturers like SONOS, Bluesound, Naim, and Paradigm, we can power existing speakers; box, in-ceiling, in-wall, and outdoor, giving these system all the modern streaming capabilities.

We have music streaming solutions available to suit most every budget; Sonos, Bluesound, Paradigm, Naim Audio, Muso, Devialet, Bose, Phantom, and Yamaha just to name a few.

Come in for a demonstration. You will be amazed at the sound quality and just how easy these systems are to use.